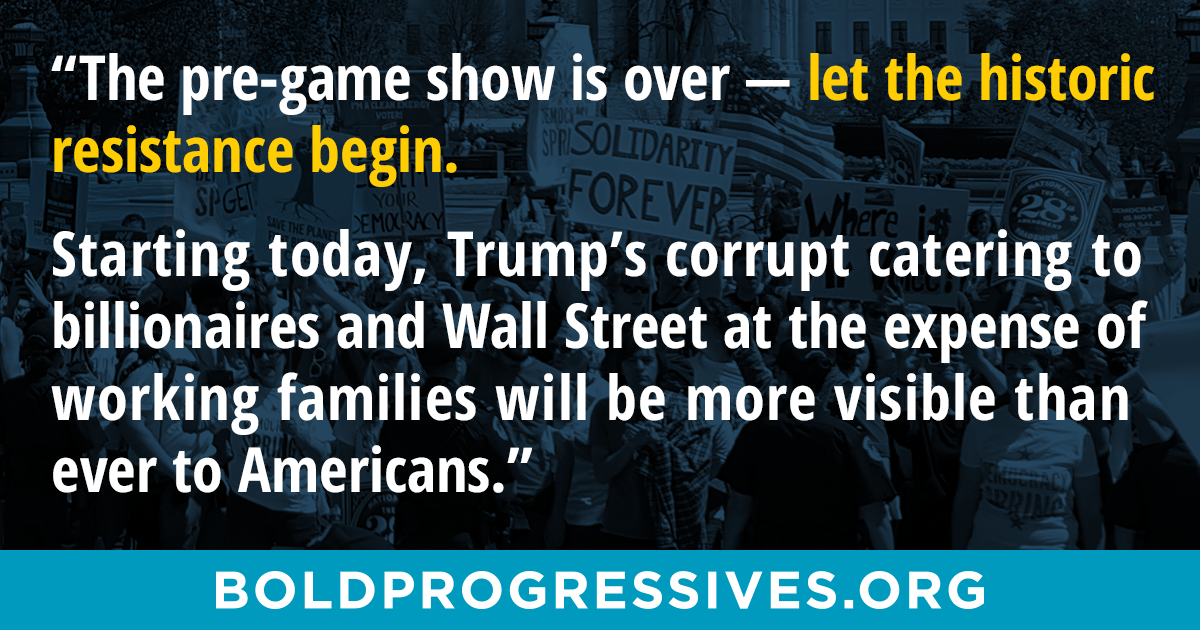 Starting today, Trump's corrupt catering to billionaires and Wall Street at the expense of working families will be more visible than ever. It won't be pretty.
Progressives are prepared to foster a historic resistance that merges the power of millions of people taking action with the leadership of Elizabeth Warren, Bernie Sanders, Keith Ellison, and others in Congress.
Elizabeth Warren says, "Our agenda is still America's agenda, fighting for that agenda is more important than ever, and the Progressive Change Campaign Committee is one of my main partners in the fight. Could you chip in $3 or more so the PCCC is ready for our next big fights with President Trump and the Republican leadership in 2017? Click here."
We've already seen evidence our resistance works.
Republican senators are publicly caving on Obamacare repeal.
Republican House members caved on watering down ethics rules after a flood of public pressure.
Just yesterday, a Republican senator targeted by our TV ad that Rachel Maddow called "the most effective one I've seen since the election" shocked people by grilling the Goldman Sachs billionaire that Trump wants to run our economy.
The resistance is strong. And growing.
Your help is needed. Elizabeth Warren asks: "Please make a contribution of $3 — or anything you can afford — to help the PCCC fight by my side in 2017."