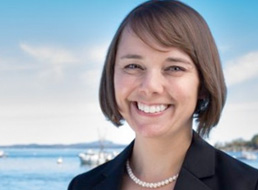 First, progressive Senate candidate Shenna Bellows out-fundraised Republican Susan Collins.
Now, Shenna is profiled by US News & World Report and The Hill!
Check out below. Then please donate $3 to help win this huge Senate race.
US NEWS & WORLD REPORT:Ai??

Democrat Shenna Bellows, a former American Civil Liberties Union leader who grew up without electricity or running water until the fifth grade, is attempting to cobble together a unique coalition of liberals and libertarians to try and upset Maine Republican Sen. Susan Collins.

But while sheai??i??s been dubbed ai???the Elizabeth Warren of Civil Libertiesai??? by the liberal Progressive Change Campaign Committee, she also finds herself seeing eye to eye with Sen. Rand Paul, R-Ky., on issues of national security and foreign policy…

Bellows is campaigning on repeal of the U.S. Patriot Act and wants to severely curb the National Security Agencyai??i??s bulk data collection program ai??i?? two issues that resonate with the left wing of the Democratic Party as well as libertarian-minded voters who propped up Ron Paulai??i??s strong showing in the 2012 presidential caucuses there.

ai???What I think we need is targeting based on individualized suspicion, reasonable suspicion that people are engaged in criminal or terrorist activity,ai??? she says in response to a question about what she thinks the NSA should be able to monitor.

Bellowsai??i?? candidacy was being largely ignored by national media until she revealed earlier this month she had raised more money than Collins during the last quarter. Now, sheai??i??s trying to capitalize on that news with a press blitz highlighting a grassroots campaign focused largely on local organizing in Maineai??i??s 500 towns.
Help Shenna Bellows continue the momentum! Click here to donate $3 and help Shenna defeat Susan Collins.Ai??
Then, share this great article on Facebook and on Twitter!
Democrats and conservatives have both tried to take down centrist Sen. Susan Collins (R-Maine) for years, to no avail.

But can a pro-pot, anti-NSA challenger finally be the one to topple the popular three-term incumbent? Democrat Shenna Bellows says yes.

The former head of the Maine American Civil Liberties Union is one of a line of progressive candidates emerging this cycle who have been dubbed ai???Elizabeth Warren Democratsai??? for their willingness to push unabashedly progressive positions that had previously been third-rail issues, like marijuana legalization and single-payer healthcare.

But itai??i??s those issues, Bellows said, that will help her galvanize Democrats come Election Day.

ai???Democrats in Maine are fired up. The base in Maine is more enthusiastic than ever before,ai??? she said.

She slightly outraised Collins in the fourth quarter ai??i?? bringing in $331,000 to Collinsai??i??s $315,000…And in a small state like Maine, the grassroots engagement can make all the difference.