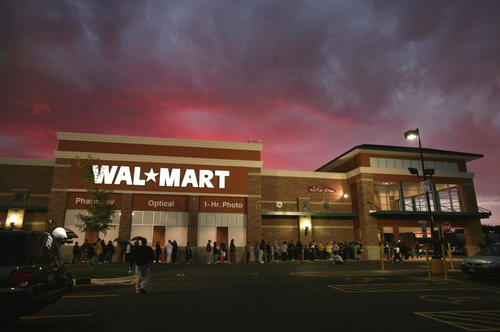 On Black Friday, there are expected to be up to a thousand strikes and protests at Wal-Mart stores — a result of poor wages and benefits and union-busting at the company.
On the Today Show this morning, Wal-Mart Chief Merchandising and Marking Officer Duncan Mac Naughton appeared to discuss the strike. At one point, host Savannah Guthrie asked him if he could guarantee that there would be no retaliation against workers who protested. He dodged the question, and when she followed up, he said they would deal with each case individually:

GUTHRIE: If someone does picket who's an employee of your store, will they face retaliation, will they be fired, will they see their hours cut down.

DUNCAN MAC NAUGHTON: Savannah, we have a really open culture, it's all about listening to our associates. It's based in integrity, with respect to the individual. Our operators and our store managers always want to listen to the concerns of our associates, and we do that all the time, we'll treat each case —

GUTHRIE: So there's no ramification if somebody protests?

DUNCAN MAC NAUGHTON: We'll treat each case individually, Savannah.
Watch it:
Wal-Mart has
already been caught telling workers
in private meetings that there may be ramifications if any of them go on strike or attend protests.
Click here to find an upcoming Wal-Mart strike or protest near you.