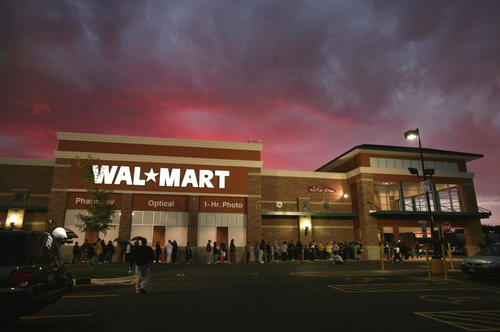 Black Friday — the discount shopping day after Thanksgiving — is the busiest shopping day of the year. Last year, Americans spent a record $52.4 billion on that day.
On a conference call today, we heard from Wal-Mart workers and labor leaders — who've already been involved in aAi??series of historic informal strikes — Ai??that plan to use this day to send a message to America's top private employer, Wal-Mart.
Across the country, networks of workers are coming together and planning to walk out on Black Friday, disrupting the company's operations.
"A few months ago I lost my house, [the] co-manager said couldn't I just go live in a homeless shelter?" recountedAi??Cory Parker, a man who has worked at Wal-Mart for nine months and who has recently gotten involved in Wal-Mart actions, on the call. "After that it made me want to fight for people who are going through that."
The Corporate Action Network has set up a page for Americans to "adopt a Wal-Mart" to show up and support workers who will be walking out on Black Friday.
Recall that it would only cost Wal-Mart $12 per shopper every year to pay all of its workers a living wage. Federal Reserve documents revealed by Matthew Stoller indicate that Wal-Mart did indeed slighlty raise wages in 2006 in response to protests.
These walk-outs and protests are potentially game-changing. We here at the Progressive Change CampaignAi??CommitteeAi??will keep you informed on these Wal-Mart actions. If you're not already on our mailing list, sign up at the top to get updates.